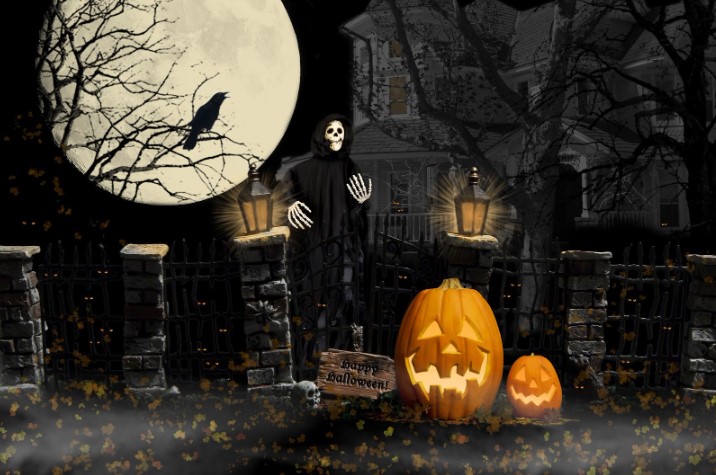 Hey there, webmasters and Halloween enthusiasts! Are you ready to add a touch of spookiness to your website? With Halloween just around the corner, it's the perfect time to inject some ghoulish fun into your online presence. One surefire way to grab attention and engage your audience is by adding Halloween themed photos to your website. In this blog post, we'll explore some creative ideas to help you make your website a haunted haven that will leave visitors bewitched!
1. Setting the Scene 
Before diving into the fun part of selecting Halloween themed photos, it's important to set the stage for your website's eerie transformation. Consider adding a temporary background or banner that reflects the Halloween spirit. Transforming your website's color scheme to include shades of orange, black, and purple can instantly evoke a Halloween-like atmosphere. This way, when visitors arrive, they'll immediately feel the festive vibe.
2. Embrace the Spooky Characters 
Halloween is all about embracing the characters that give us goosebumps! Incorporating Halloween-themed characters into your website will leave a lasting impression. You can choose from a variety of classic characters like witches, ghosts, vampires, or zombies. To make it more unique, try combining them by creating your own spooky mascots or characters to enhance your brand. Adding these characters as illustrations or photos on your homepage or other prominent pages can instantly captivate your audience.
3. Bewitching Product Displays 
If you're running an online store or promoting specific products, Halloween provides a fantastic opportunity to showcase them in a bewitching way. Take captivating product photographs with Halloween-themed props, like pumpkins, spiderwebs, or spooky lighting to enhance the atmosphere. Adding these unique product images can entice potential customers and create a sense of urgency as Halloween approaches.
4. Devilish Social Media Integration 
Extend the Halloween spirit beyond your website by incorporating Halloween-themed photos across your social media platforms. Don't be afraid to get creative and post behind-the-scenes shots of how your team is getting into the spirit. Run contests or giveaways with Halloween goodies, and encourage your audience to share their own Halloween photos using a dedicated hashtag related to your brand or website. It's a great way to engage your followers and spark conversation.
5. Frightfully Fun User-Generated Content 
To foster a sense of community, involve your audience in the Halloween festivities. Consider running contests or challenges asking users to create and submit their own Halloween-themed photos related to your website or products. Whether it's a spooky selfie or a creatively carved pumpkin, user-generated content is a fantastic way to engage with your audience and showcase their creativity. Feature the best submissions on your website or social media pages, giving credit to the creators. Not only will this encourage participation, but it will also create a sense of camaraderie among your visitors.
Now that you have some fantastic ideas on how to spice up your website with Halloween themed photos, it's time to unleash your creativity! By setting the scene, embracing spooky characters, showcasing products, integrating social media, and encouraging user-generated content, you can transform your website into a haunted haven that will bewitch your visitors. Remember, Halloween is a time for fun and creativity, so let your imagination run wild. Get ready to thrill and engage your audience this Halloween season with a website that is both spooky and captivating! Good luck, and have a ghoulishly great time!
Related Posts